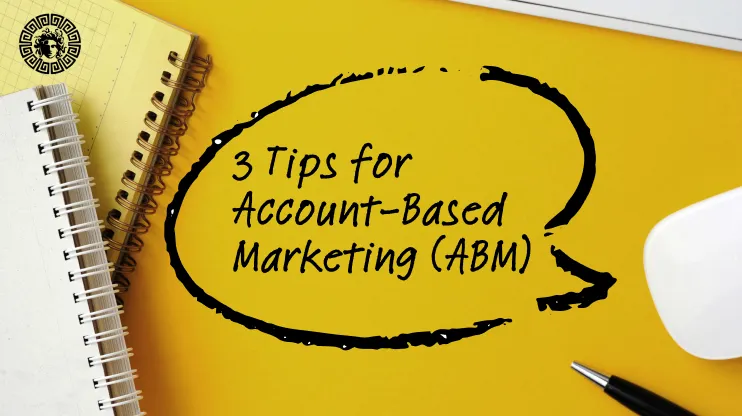 06 Jan
3 Tips for Account-Based Marketing (ABM)
Companies are opting for multiple digital marketing approaches. Why does ABM outperform other marketing techniques?
Account Based Marketing (ABM) is the end-to-end marketing funnel with a specific goal of narrowing down the list of the potential audience. ABM is an integrated and coordinated process that actively delivers valuable and relevant data to clients. Vereigen Media serves its extensive client base through actionable data to engage with potential prospects. In this blog, you will explore three tips that are significantly helpful for account-based marketing. Dig up to get more insights!
3 Tips for ABM
After a quick google search, you understand your target customer and how their business aligns with your company's goals and initiatives. Now, it's time to reach your full potential and maximize the outcome of your demand generation efforts. Here are three tips to ensure efficacy and optimization in your ABM campaign and personal marketing strategy.
Tip 1: Start with Target Vertical Marketing
Vertical marketing refers to organizations and customers connected through a given niche to form a cluster in a vertical market. Target verticals are the people or companies you identify as your desired premier customers. They are a focused group of influential vendors (market influencers) responsible for specific products and market sales in any industry.
On average, a Business to Business (B2B) contract involves approximately seven stakeholders in a single or small purchase decision. Larger accounts involve more stakeholders in the purchase decision. The role of the champion or influencer from the target vertical represents your company's vision and enhances your mission within the ABM.
Use the Pareto Principle or the 80/20 rule to reach your ABM goals. The principle states that 80% of your outcome is acquired from 20% of your strategic effort — for example, 80% of profits come from 20% of sales—Focus 20% of your time and resources on those specific stakeholders for maximum impact.
When applying this idea to your target verticals, focus on the highest average contract value. These will make up the bulk of your revenues from that industry. Another way of applying the Pareto Principle to your target accounts is to determine who will most influence the purchase decision.
Tip 2: Cleary Identify Target Vertical Roles
Use a lead-to-account (Demandbase) Mapping tool or data enrichment tool to label contacts on the target account. Helpful categories include job titles, descriptions, departmental structure, and vertical target functions. Use the mapping tool to capture essential details like roles and responsibilities and to identify the correct person in your target vertical model.
For example, suppose a person in marketing at a B2B technology company holds the same job description as someone with an Audience Solutions degree at a health insurance company. In that case, you know how and where to focus your marketing efforts. Three vertical target functions are champion, influencer, and decision-maker. A person's target vertical function is vital in using the Pareto Principle so your marketing efforts are informed.
1. Champions are passionate about the value of the proposed solution and will spread the word with other influencers/decision makers.
2. Influencers give critical feedback throughout the purchase process and have a major interest in the outcome of the purchase decision.
3. Decision-makers are likely to be the buyers during the decision-making process.
The last step in tip two is creating a multichannel message that works on social media networks like LinkedIn, Twitter, YouTube, and Facebook. Your multichannel statement should reflect your vertical goals and emphasize your strengths and weaknesses. The goal is to tell the world who you are and what you offer. Your message can start with a "do this, get this" strategy to jump-start your ABM campaign.
Tip 3: Follow-Up on the Campaigns Efficacy
Your campaign targets a few champions and influencers for a specific goal. When you receive a response, you know you have targeted the right people. In addition to planning a personalized campaign for each champion and influencer, you should create a clear step-by-step plan to ensure that your efforts are "always-on" (such as email campaigns for ABM awareness announcements).
The goal of ABM is to create a focused connection between your brand and your targeted accounts. Using the ABM marketing strategy makes your whole approach more personable. Understanding what is beyond an ABM strategy through personalization assures your campaign(s) will effectively produce the results you want.
Moreover, identifying the interest of top segregated prospects and including them in the follow-up directory. Try to connect with them and initiate engaging communication to establish connections. CRM tools could help maintain communication records and client databases. Maintaining email cadence is a helpful idea for managing a large amount of data and evaluating the effectiveness of your communication.
Summing Up
B2B businesses often use multiple modes for their marketing efforts. But ABM provides an effective and efficient platform to pitch its products or services to a specific market. The above tips are helpful to marketers in setting an optimum approach while targeting the market. Incorporating & utilizing the above techniques in marketing strategies will help B2B organizations develop lasting relationships with significant accounts; exceptionally, using an ABM strategy can be very beneficial.
One of the essential benefits of ABM is that it allows marketers to target a specific audience. ABM will let companies focus on specific accounts instead of trying to get business from many different sources and hoping for the best. Vereigen Media allows you personalized solutions to engage your potential prospects. Get assistance today!